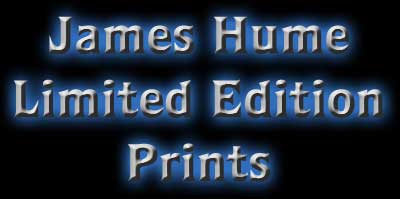 Raised in the Pacific Northwest in the Seattle Tacoma area, while still in cap and gown from graduation, Hume moved to San Francisco. With music being his primary artistic outlet, the bay area became fertile ground for experiencing rich cultures, color and sound and the plain craziness of the area.
With music in his blood and a mic in his hand, James' band rocked the airwaves playing with Motley Crue and Night Ranger. The band's EP album beat out Ozzy Osbourne's Bark at the Moon in the BBC Critics Choice Awards. Further fanning the flames of the band's ego, Metallica opened for Hume's band at a Southern California show. Now famous metal/rock band was forced to use the nightclub's men's room as a dressing room.
Transitioning from rock stage to radio studio, Hume was the token 'long hair' at stations KCBS and KRQR for 3.5 years before returning to the Northwest. A short stint at NBC-TV kicked off 18 years directing freelance television. A wide variety of subjects provided James the uncommon opportunity to shoot film at the White House.
Of the subject matter Hume captured on film, surprisingly boxing matches held the most allure, while creating a lengthy 52 episode series shot in Montana proved to be the most taxing. Documentaries, commercials, short films, television series and videos took this director overseas to Europe and all across America covering 25 states in the process.
Hume produced award winning short films, was the Director of the Tortured Artists Film Festival and Last Reel Film Festival, Hume was an integral part of Tacoma gaining recognition for more than just metal and punk bands.
Adding visual static art to an already stacked repertoire, renaissance man James Hume launched himself full force into painting in 2002.
After attending college with his focus on film, Hume has diverged in recent years and poured his creative energies onto canvas. Hume only attended the usual high school art classes, but the Lakewood Washington native gleaned much from the instruction in a technical drawing class. Being forced to use such meticulous precision in the drawing of mundane mechanical parts has served him well. The attention and patience to intense detail required by that class taught the bourgeoning young artist much in the way of pains-taking patience and commitment to a project's completion.  
During high school years Hume was in a band called Vandal, which became Mad Hatter and finally Roadrunner. 
His art currently can be described as part of a Bauhaus art movement with text and imagery used simultaneously in one piece of artwork. In the past, Hume has mostly created combination pieces in the Hi art genre.  At present he finds himself leaning towards simpler works. Hume paints with acrylics and until recently had maintained a theme in the use of the color red. Presently, James Hume paints in his private studio on his 106 year-old estate in Lakewood, Washington.
---